Hello, friends welcome to you, Indian Helper. Today I'm going to tell you. How do you get traffic/visitors to your website, even working on some Amazing Seo Technique? They will also tell you about Free Top Seo Techniques, which will help you to boost your website or blog's traffic locally. Let's know those technicians. It is not a minor matter to do Seo, for that you have to be patient and work according to time. Yes, you may also need smart work and technical skills. I am writing for these friends in the post or sharing with you. Those who want to learn Seo / want to be and want to own Seo of their personal blog. You have seen a lot of companies who take a lot of money to do Seo. But if you understand this work or technique well then you do not have to hire a company.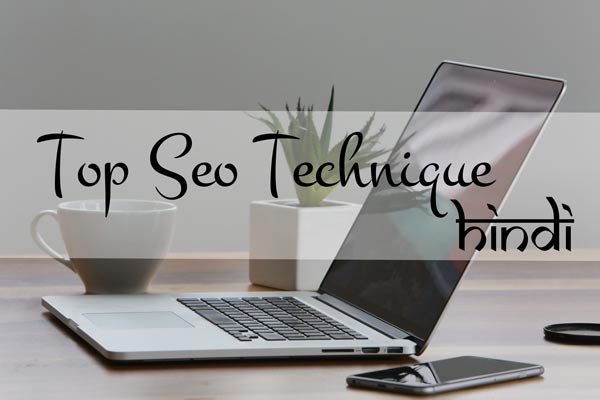 In SEO [Search Engine Optimization], the focus is to make the most of the backlinks. Backlink also has 2 types
Why backlinks are necessary, we understand with the help of a quote:
Backlink = Vote, Backlinks are a type of voting.
Backlinks work for us as voting.
The more the voting looks to our populace.
Backlinks also do the same thing to popularize or rank our site.
So much as the Jayaka backlink is so beneficial.
Top Seo Techniques
1. Directory Submission: Like a telephone directory, some websites also have a directory from which we can search the website of our choice, we have to submit your website to these directory sites, also in a category that is related to our website, Directory By submitting we get Do-Follow Backlink.
2. Social Bookmarking: the Social bookmarking website is like a social networking site that you use to promote your website or post. Onus from these websites higher level Get No-follow backlink. This is very effective in ranking your keywords.
3. Classified Ads: The classified ads, like olx, Quikr, gives us leads and good traffic. We have to log on to this site and post a related website to our website. If any user watches and clashes our ADS, then our traffic changes. You can also search it by the name of free advertising.
4. Local Listing: Local listings are exactly the same as you register your website or business on Google business, but here we have to list our website on the website Just Dial, India Mart, etc. So if anyone searches about your business, those websites show them about your business. This result targets the people of the area.
5. Blog Commenting: You can also comment for the backlink. Comment on any website rated from your keywords or topic. You can take backlink from there. But these are all No-follow backlinks, but these backlinks come from a large blog or website, so your traffic also increases.
6. Guest Posting: Guest Posting or Guest blogging These two names are the same. Guest post means that you write posts/articles on any other website or blog. Instead, you give a link to your blog/website on their website. This work is called guest posting. This process is very quick to help you rank in traffic and search engines on your website. It is also called the Fast Link Exchange Process. If you want to post a guest on our website then you can contact us.
7. Forum posting: Forum posting is a type of question-answer website that we call a forum in technical language. With the help of these forums, you can also take backlink. You have to register on some popular sites such as Quora on the Forum. And according to your information, one has to select a topic. In which you can steal the link to your website by answering those tangled questions. The point of attention is that the link you are giving is related to the topic you are linking. This will also help people answer your answer and people will also come to your website through your link.
8. Articles Submission: Article posting is also a great way to get traffic for your website. You have to post your articles on any articles. And by putting some links on it and posting it. Article submission is to write 460 Word posts. HubPages.com, ArticlesBase.com, eHow.com Some of these websites are very popular in which you can submit your own articles.
9. web 2.0 directory submission: This is an Advance SEO technique that will help you to create Fast Backlink. This is the fastest Backlink process. Click here for full information about this. Web 2.0 Directory Submission List This post is a slightly longer post read in details so we have written a different post on it.
10. PDF submission: pdf submissions are a great SEO technique that allows you to create a backlink for the website from the Doc file sharing site. You just have to register on any pdf site and share your pdf file. It reads the details in PDF File Submission for SEO
11. Press release: The press release website is a free advertising platform where you can get your site or business news published in free of charge. Go to the details of this Press Release Submission in SEO
Last Words: You want to bring traffic to your website organic, or want to rank it. So if you follow/work Top Seo Techniques given in the same post in 1 month then you do not have to hire any company. And under one month, your traffic will reach more than 1000+.